Hotel Introduction
Located on Sszuwei Road across from the stately Kaohsiung City Hall,the five-star Han-Hsien International Hotel offers 42-story of accommodation where even the most seasoned traveler will encounter a harmonious blend of luxury and personal charm without a hint of ostentation.It is conveniently located just 15 minutes from the Kaohsiung International Airport. Teh magnificent ambience of the hotel's rooms and state of the art facilities,together with the warmest of service will ensure the confort of your stay.This popular hotel will entice you in a way no other can and will be your first destination whenever you visit this promising city of tomorrow.All of the Han-Hsien International Hotel's 380 guest rooms and suites are having a beautiful architectural design and bright and transparent glass,whcih make the hotel ollk magnificent and ele.
Tel:07-332-2000
Hotel Address:No.33,Sszuwei 3rd Road, Kaohsiung City
Room Introduction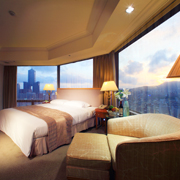 All of the Han-Hsien International Hotel's 380 noble and graceful guest rooms and suites are with first class design and facilities. With sufficient natural lighting and complete indoor equipment, our guest rooms provide beautiful panoramic views overlooking the city or sea. As an international hotel having both functions of commercial and sightseeing, we strive to satisfy every guest with our most cordial and perfect service. We also provide accessibility guestrooms, which is particularly designed for disabled persons. Extra beds, including standard beds and baby cots, can be added to fully utilize the guestrooms. Here, you may enjoy the well-accommodated facilities as much as you like. With the cordial smile, every staff member of the Han-Hsien International Hotel cares about your every trip for business or leisure. We provide you a home away from home with warm.
Leisure Facilities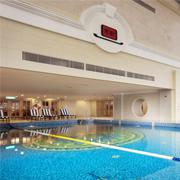 As modern-day people strive for better work efficiency, they also want to look after their own spiritual and physical well being. Han-Hsien International Hotel has designed a "Business and Entertainment Center" that combines business with leisure on its 7th, 8th, and 9th floors; the Center offers world-class management and professional facilities with conference, business, and entertainment services.Located on the 7th floor, the Center's business center offers a professional business consultation service to hard-working businessmen so they can enjoy the convenience of speedy office efficiency right inside the hotel. It is also important to relieve the body from physical exhaustion after a long hectic day of work. The entertainment center located on the 8th and 9th floors offers fitness equipment, indoor temperature-controlled swimming pool, sauna, and beauty salon with professional relaxation service to provide each and every guest with a chance to unwind and happily greet a new day.
Restaurants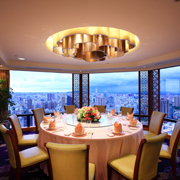 International Hotel has 3 levels of classic, elegant, and magnificent banquet halls There are choices of the B2 Grand Ballroom, the 3F Banquet Room, and the 5F Universal Ballroom.
Peripheral Scenes
SOGO-Taiyuan Shopping mall
Directions
With the most breath-taking view of Kaohsiung,located along side of the most decent boulevard of Sszuwei Road.The hotel is acrooss from the stately Kaohsiung City Hall.seculding from noisy bazaar while easily accessible of downtown. With convenient and rapd transport facilites,it takes only 15 minutes to drive from Han-Hsien International Hotel to Kaohsiung Airport and Kaohsiung Main Station.